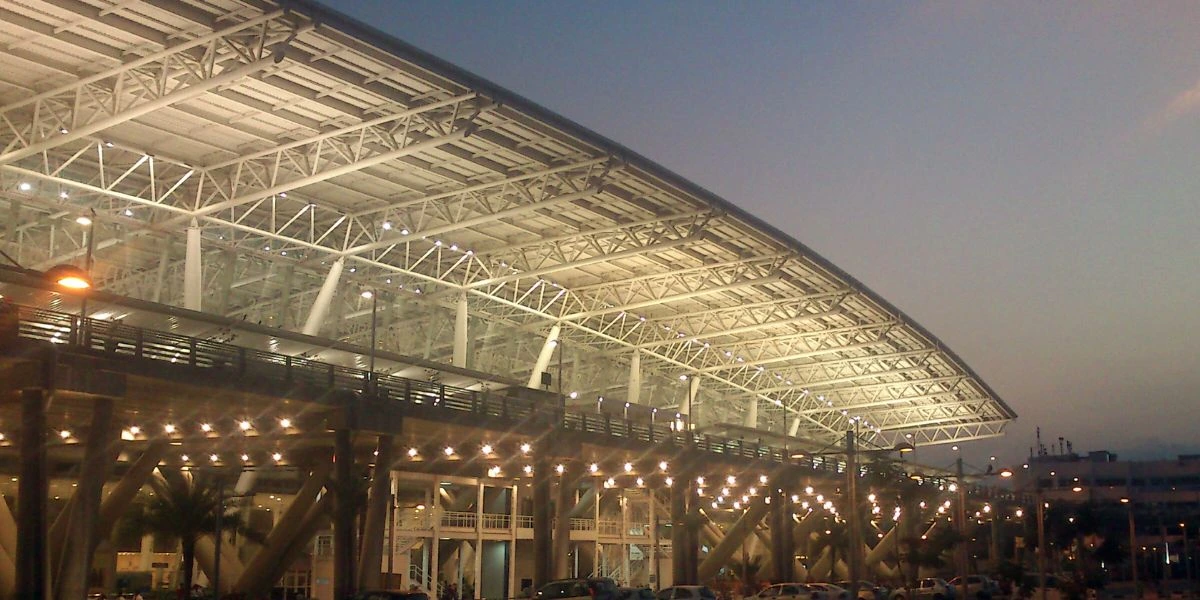 Since 1993, Qatar Airways has a long history of providing its customers with first-rate, superior services. You may find all travel-related services, such as trip booking, flight cancellation, excess baggage purchase, seat selection, check-in, and more, at the Qatar Airways Chennai office.
With the accommodating flight crew, you can add additional assistance and other requests. You can easily modify your trip to suit your needs at the Chennai international Airport(MAA) office. Additionally, you can ask for last-minute flight reservations and cancellations free of a dynamic surcharge.
At the Chennai International Airport, take advantage of seamless, punctual, and quick connections all under one roof. There is no need to switch terminals, and your bags will be swiftly moved to the ensuing flight provided you purchased the ticket through the Qatar Airways Chennai airport.
The following provides this and all other travel-related information:
Contact Details of Qatar Airways Office in Chennai
Qatar Airways Chennai Office Address
Seethakathi Business Centre
ETA Star Building No. 684 – 690
Office No. 3C, 10th Floor
006, Anna Salai, P.O.Box 600 006
Chennai, India
Qatar Airways Chennai Office Contact Number
+91 79 3061 6000/+91 79 6155 6000
Working Hours
24×7 Hours
Customer Service Phone Number
+1 (877) 777-2827
Help Center
Visit Here
Qatar Airways Online Check-In & Flight Status
Visit Here
Privilege Club
Visit Here
Qatar Airways Baggage Allowance
Visit Here
Nearest Airport
Chennai International Airport (MAA)
​​​​​​​​​​​​​​​​​​​​​​​​​​​​​​​​​​​​​​​​​​​​​​​​​​​Nearest Airport from Qatar Airways Ticket Office Chennai
Chennai International Airport (MAA) is the closest and best known for the excellent & extraordinary services and help it offers to its passengers.
Chennai Airport Name
Chennai International Airport (MAA)
MAA Airport Address
Airport Rd, Meenambakkam, Chennai, Tamil Nadu 600027, India
Airport Phone Number
+91 44 2256 0551
Airport Code
IATA: MAA
ICAO: VOMM
Total Number of Terminal
Three Terminals
Arrival and Departure Terminal of Qatar Airways at Chennai Airport
International Terminal
MAA Airport Location
Get Direction
Queries and Concerns Addressed at Qatar Airways Chennai Office
The facilities were designed to make it possible for travelers to drop by and ask inquiries and receive timely solutions. Additionally, you can visit the Qatar Airways check-in counter. The Chennai International Airport provides the following services:
Flight Ticket Booking
Flight Ticket Cancellation
Flight Ticket Rescheduling
Online Check-in
Airport Counter Check-in
Airport Self Service Kiosk Check-in
Unaccompanied Minor Service
Baggage Allowance
Duty Free Allowance
Flight Information
Airport Lounges
Visa Information
Missing Luggage
Immigration Services
In-Flight Wifi
Airport Wifi
In-Flight Entertainment
Airport Facilities
Delayed Flights
Visa on Arrival
First & Business Class Enquiries
Economy Class Seats Enquiries
KrisFlyer Membership Services
In-Flight Meals
Get Unlimited & Prompt Support at Qatar Airways Chennai Office
In order to maximize last-minute travel arrangements, the Qatar Airways Chennai office provides a wide range of travel services. By dialing the Chennai Airport phone number, you can also take use of the following services:
Add Premium cabin
You will experience our highest standard of comfort in Premium Cabin by booking through the Qatar Airways ticket office Chennai. You'll experience a remarkable level of relaxation whether you're traveling for work, a family holiday, or a romantic retreat. The moment you settle down, you'll feel as though you've landed in the Islands, surrounded by sophisticated, contemporary Island-style architecture. Book at the airport office to enjoy the discounted rates and save up to 50 % on Business and First Class cabins.
Extra Comfort
Give yourself the gift of Extra Comfort, our premium product. On Airbus A330, A321neo, and Boeing 717 aircraft, the Extra Comfort seats provide more legroom, priority services, and extra amenities to make your trip more enjoyable. Extra Comfort seats are not accessible online and can only be booked at the time of check-in at Qatar Airways Chennai office.
Priority Screening and Early Boarding
Quickly get through security and gain early access to overhead bins. The Qatar Airways office in the Chennai airport's International terminal offers Priority Security.
Vacation Deals
Enjoy up to 50% savings on the vacation packages across the globe when you book through Qatar Airways Chennai office. Book worry free using flexible hotel deals with zero cancellation fee at the airport. Just save time and money when you club flight, hotel and car rental together.
Hotel Stays
Take advantage of discounts at hotels and resorts worldwide while earning Miles. Save up to 25% if you add the hotel in your reservation. Al you need to do is head to the check-in counter or call Chennai airport Phone Number.
Vacation Rentals
Suit yourself with the additional space, privacy and the convenience of your home, and save up to 65% when you book one at Qatar Airways corporate office at Chennai international airport.
Car Rentals
With Qatar Airways Chennai airport office, you may rent a car at the most affordable rates, and every rental will earn you considerable Avios credits. Find the right vehicle to meet your itinerary, whether you're looking for an easy vacation rental or designing the ultimate fly-drive.
With fantastic rates, flexibility, a variety of vehicle types, and pick-up and drop-off locations, Budget and Avis car rentals are a great choice. Along with the additional assurance of 24-hour customer support and roadside assistance, all obligatory fees are included. A number of useful add-ons can also be pre-booked, such as child seats, GPS navigation, winter accessories like snow tyres or chains, and Premium Cover to prevent any excess fees.
Trip Insurance
Now that you've planned your ideal getaway, the only decision you should be making is which attraction you want to go to. However, unforeseen events do occur occasionally, so you must be ready. What if your luggage is stolen or there is an unexpected medical emergency? By getting Allianz Travel Insurance, you can safeguard your baggage. Book your trip insurance at the time of check-in with the Qatar Airways Chennai office.
Airport Lounge
The Executive Lounge is open to passengers in Business Class who are Elite members and are flying to an overseas location. For passengers flying on any flight operated by airlines, the passes may also be purchased at check-in.
Qatar Airways Headquarters Address and Contact Details
| | |
| --- | --- |
| Qatar Airways Headquarters Address | Qatar AirwaysQatar Airways TowerDoha, Qatar |
| Phone Number | +974 4022 6000 |
| Fax Number | +974 4462 1533 |
| Email ID | infodesk@qatarairways.com |
| Established on | November 22, 1993 |
Avail Special Assistance at Qatar Airways Chennai Office
Every traveler, in the eyes of Airline , is unique. The airline makes sure that you travel worry-free at the Qatar Airways Ahmedabad office. Every step of your voyage airline crew will support at your disposal.
Guests with Disabilities
In order to provide the finest service and guarantee accessibility, the Airline is pleased to help our visitors with impairments. The Air Carrier Access Act is upheld at the Chennai ticket office. The ACAA forbids discrimination against passengers based on handicap by both domestic and international carriers.
Please visit the Guests with Disabilities Help Page for further information about the services provided by Qatar Airways. Please call our reservations department, if you need further details.
Traveling With Children
Qatar Airways offer our genuine hospitality and sensible care to the youngest visitors. With safety and comfort in mind, we want your travel experience—and that of your child—to be good and in safe hands. So be sure to plan beforehand for a nice flight and your peace of mind.
Please contact the Qatar Airways Chennai ticket office to make your newborn or child reservation if you are traveling with one.
Unaccompanied Minor Travel
You can arrange the unaccompanied minor travel up to 3 hours before the scheduled departure at the time of check-in. Head to the Qatar Airways ticket office Chennai at least 2 hours before the scheduled departure. Parents are advised to stay at the airport until the flight has taken off.
One of the airline's friendly staff will stay with the child until they board. If your child is flying in Business or First Class, they have access to Executive lounge.
Traveling With Animals
Whether you are traveling with your pet or a certified assistance animal, there are restrictions and criteria that apply at the Qatar Airways Chennai airport office. The airline transports dogs, cats, and domestic birds. We encourage you to carefully read and comprehend the terms and regulations before taking an animal on a trip.
The airline allows passengers to fly on board with their trained service animals. When it comes to helping a guest with a disability manage their condition, trained service animals are distinct from emotional support/comfort animals because they have been taught to do a specific job or activity.
Pet Relief Area
The Qatar Airways Chennai airport office maintains pet and service animal relief zones in both terminals.
International terminal has several locations. Pet relief areas are located outside on the baggage claim level, prior to security. At the Chennai international airport, a new pet relief area has also been created outside the Parking Garage.
Steps to Book the Flight at Qatar Airways Ticket Office Chennai
Thanks to the Qatar Airways ticket office Chennai making reservations for flights is now quicker and simpler. Visit the airport's check-in desk, and
Ask a member of the to make the reservation. You need to head to the check-in counter at International terminal.
Describe your travel plans in detail.
Please be aware that bookings and payment are required up to 3 hours before departure for last-minute flights.
The airline will provide you with a confirmation of your reservation once you have made the necessary payment.
Be prepared to board the aircraft following check-in and luggage retrieval.
Add/Purchase Baggage at the Qatar Airways Office in Chennai
Fill out the form and send it to the Chennai airport Phone Number if your luggage has been damaged, delayed, or you need a reimbursement for extra services.
If your bag is damaged or delayed, Chennai international airport baggage claim must be notified within 7 days of the travel date.
Take the item to your local repair shop to get it fixed and/or valued. If it cannot be repaired, a documented statement from an authorized repair facility is required. The claim must be backed up by documentation showing the item's original purchase price if it is worth more than $200 USD.
People are advised to submit their own claims. However, families are allowed to combine their claims. Please provide the following details in your claim:
a photo of the damaged item
Age, cost, and name of the company that made the missing or damaged item
A receipt is necessary if the item costs more than 300 USD.
Flight Cancellation at Qatar Airways Chennai Office
If your flight is canceled, you will be offered a transfer to another aircraft or other equivalent travel options to get you to your destination as quickly as possible, or a full refund of your ticket if you prefer.
If it would be simpler and faster for you to independently book a hotel room, receive snacks, meals, or transportation and the airline is unable to provide you with timely assistance owing to real problems, such as when a large number of aircraft are affected by a single event.
Following receipt of appropriate documents, the Qatar Airways Chennai office will reimburse the fairly incurred expenditures. Call the Chennai airport in this situation to receive the proper reimbursement and compensation for your impacted flights.
If the airline offers you assistance, such as a hotel room at the airport or bus transportation to and from the airport, and you decline and make your own arrangements, the airline is not required to pay the expenses.
If a delay of more than three hours or cancellation is due to our error, you are entitled to compensation.
However, the airline will not be held liable if the delay or cancellation resulted from "exceptional circumstances" beyond our control, such as poor weather, an air traffic control strike, airport closures, mobility limitations, or a flight suspension ordered by government agencies.
Frequently Asked Questions (FAQs)
Where are the Qatar Airways Lost baggage counters located at Chennai airport?
If you believe you lost an item in the terminal at MAA, please contact the Lost and Found Office. Baggage Claim Counter at Chennai airport is located at International terminal.
Can I Book Cargo service from Qatar Airways Chennai Office?
Yes, the Qatar Airways ticket office Chennai at International terminal offers flexibility and efficiency for all kinds of shippers.
Qatar Airways Chennai Office allows me to make modifications on my ticket?
Yes, provided that the changes need to be requested up to 3 hours before the scheduled departure.
Can I book unaccompanied minors services from the office in Chennai?
Yes. Please ensure that the parents must carry the following documents – 
Qatar Airways unaccompanied minor form
Photo ID/passport of the unaccompanied minor
Photo ID/passport of the parents who would be dropping off the child
Name, address, and contact number of the person who would be dropping off the child
What to bring at the Qatar Airways office in order to cancel the flight?
Passengers need a booking reference and the last name to request the flight cancellation/changes. 
Qatar Airways Offices Other Locations